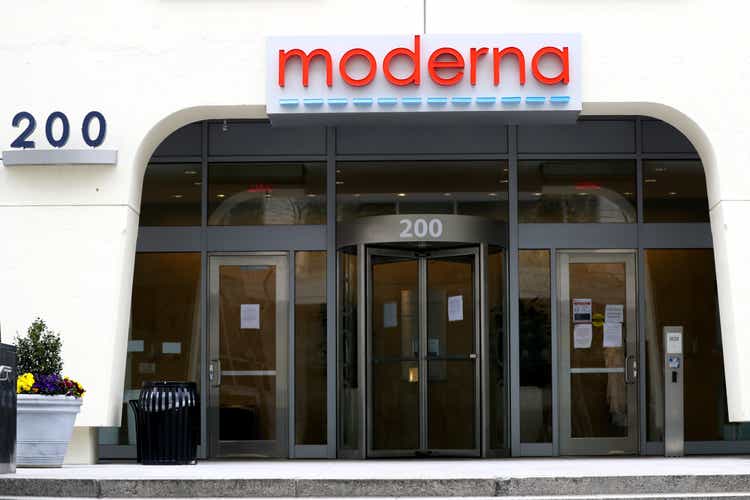 COVID-19 vaccine maker Moderna (MRNA) added ~7% on Monday to record the biggest intraday gain in three months on above-average volume as the broader healthcare sector gained after five-straight sessions of losses.
About 5.7M shares changed hands compared to the 65-day average of ~4.9M as Moderna (MRNA) ended up as the third biggest gainer in the S&P 500 today.
Earlier in the day, Cowen upgraded the Cambridge, Massachusetts-based biotech to Outperform from Outperform, citing a favorable catalyst path even as the company's COVID-19 vaccine sales are on the decline.
"Given the success with its COVID-19 vaccines, we believe it is likely that Moderna will be successful in developing effective vaccines for several other diseases," the analyst Tyler Van Buren wrote, raising his price target on the stock to $180 from $150 per share.
Cowen issued positive views on the upcoming data for Moderna's (MRNA) personalized cancer vaccine and flu vaccine. The firm also predicted that the company could be a leader in the vaccine market for the respiratory syncytial virus (RSV).
Moderna's (MRNA) gains also came after rival COVID vaccine maker Pfizer (PFE) agreed to acquire the cancer-focused biotech Seagen (SGEN). The $43B deal marks the pharma giant's latest deal-making activity driven by its pandemic-driven cash pile.
"Moderna is more than just a COVID-19 vaccine company," Seeking Alpha contributor Biologics argued recently issuing a Strong Buy rating on the stock.