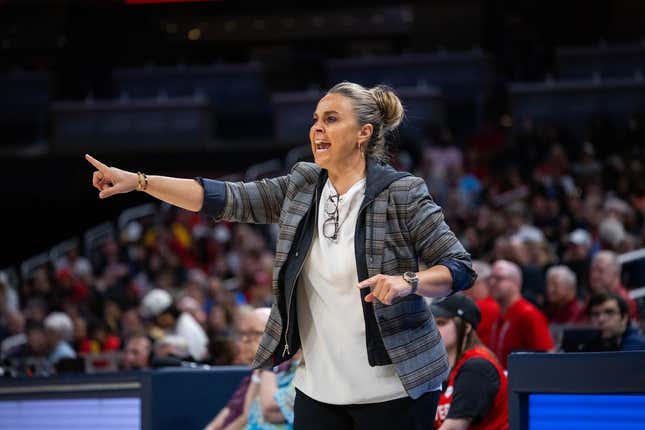 The defending WNBA champion Las Vegas Aces are on the verge of wrapping up the top seed in the playoffs.
Which Team USA player will have the most success this NBA season? | Agree to Disagree
The Phoenix Mercury have the worst record in the league and are not going to the playoffs.
Two teams in very different positions meet Friday night in Phoenix before ending the regular season against each other Sunday in Las Vegas.
"Everything we want to accomplish is right in front of us," Aces coach Becky Hammon said. "It's up to us to go and grab it."
If Las Vegas (32-6) wins these two games, it will claim home-court advantage throughout the playoffs by holding off the surging New York Liberty (31-7) of the Eastern Conference.
The Aces will have had six days off since a 103-77 victory against Seattle last Saturday in which they tied a league record with their 10th game with 100 more points, but that didn't leave Hammon totally satisfied.
"At the end of the day, I wasn't thrilled with the defense," Hammon said. "It was OK, wasn't great."
The short-handed Mercury (9-29) are coming off a 100-77 loss to the Washington Mystics on Tuesday.
"I didn't think we gave our best effort like we usually do," interim head coach Nikki Blue said. "But partially because I think our numbers are limited and it's really tough as far as consistency-wise. We just don't have enough players right now."
Diana Taurasi is sidelined by a toe injury, Sophie Cunningham is out because of a jaw injury and Shey Peddy has been under concussion protocol since Aug. 5. All three are guards.
With so many absences, opponents have been able to concentrate more on slowing down star center Brittney Griner.
"The players out there are good shooters, but (defenses) are able to help off them a little more and help inside on BG," Blue said. "With our normal starting five, we're able to spread it out a little bit more."
—Field Level Media