Posted on: September 20, 2023, 08:04h. 
Last updated on: September 20, 2023, 08:05h.
UPDATE: Jimmy Kimmel, Jimmy Fallon, and Stephen Colbert canceled their "Strike Force Three" Las Vegas show, scheduled to take place Saturday, Sept. 23, after Kimmel tested positive for COVID.
"Well, Las Vegas, I got COVID, and sadly, we need to cancel this weekend's Strike Force Three show," Kimmel tweeted. "I could never live with myself if I got my hometown friends sick." 
According to Kimmel's post, everyone who purchased a ticket will get a full refund and the group will try to reschedule the show if possible.
---
EARLIER: Jimmy Fallon, Jimmy Kimmel, and Stephen Colbert will join forces for a Sept. 23 fundraiser at the Park MGM on the Las Vegas Strip. The show is expected to be a live version of the Spotify podcast started by the late-night talkers in August to discuss the ongoing Hollywood strikes while poking fun at one another.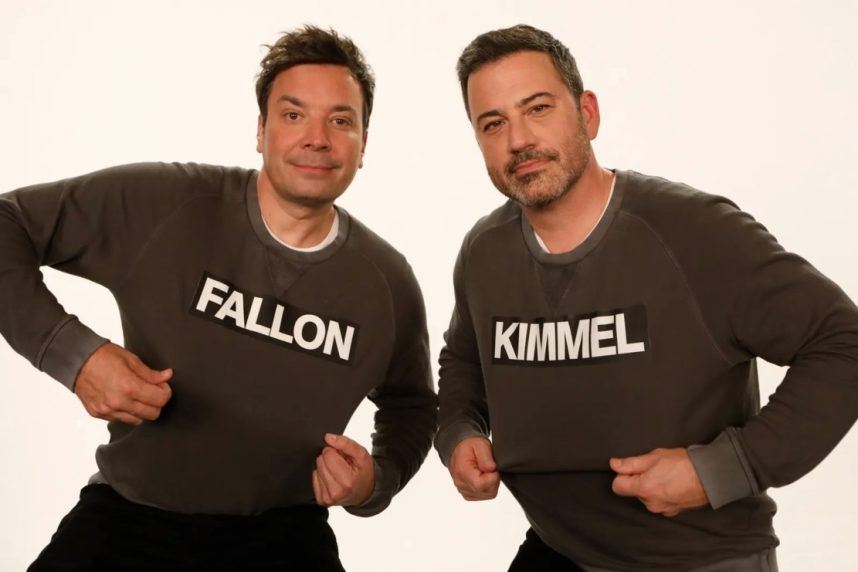 John Oliver and Seth Meyers — who also cohost the Spotify podcast Strike Force Five — will not be part of the Dolby Live show, so it has been renamed Strike Force Three.
Meyers and Oliver addressed their absence with humor in a press release.
I'm not allowed back in Vegas until I'm cleared of all charges," Oliver stated.
Meyers added: "I WILL be in Vegas but unable to attend, as I gotta play my slots."
Proceeds from the live show will benefit the hosts' late-night staff, who have been out of work since the Writers Guild of America called a strike on May 2. (On July 14, the Screen Actors Guild and American Federation of Television and Radio Artists also voted to strike.)
Until their shows shut down production, Fallon, Kimmel, and Colbert had been rivals for viewers every night. Now, they are coworkers who swap stories about their vacations. The two Jimmys actually vacationed together over the summer.
Elephant in the Theater
One topic not yet discussed on Strike Force Five is the recent Rolling Stone exposé accusing Fallon of creating a toxic work environment on The Tonight Show. However, four of the 12 promised episodes uploaded so far were recorded before Fallon found himself at the center of that maelstrom, which Newsweek addressed with the headline, "Jimmy Fallon is Getting Canceled."
Fallon reportedly addressed the allegations during a Zoom meeting with his staff earlier this month, saying, "I feel so bad I can't even tell you."
Will the cohosts go there during their live show?
Find out for yourself when Strike Force Three takes the Dolby Live stage at 8 p.m. Saturday, Sept. 23. Tickets go on sale at 10 a.m. Friday, Sept. 15, via Ticketmaster.