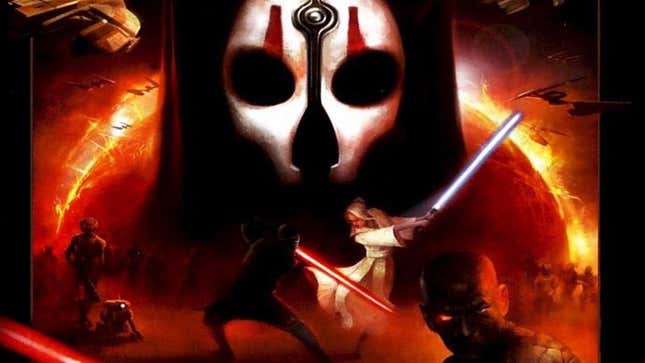 A new gamer lawsuit rises. Three months after Aspyr said it was abandoning promised DLC for the remaster of Knights of the Old Republic II: The Sith Lords on Nintendo Switch, someone is suing the publisher for failing to make good on its original promise or to offer a refund when that was no longer possible.
The Top 10 Most-Played Games On Steam Deck: August 2023 Edition
The class-action lawsuit (via The Gamer) was filed by Malachi Mickelonis earlier this summer and accuses Aspyr of fake advertising. He apparently bought the game but never actually played it. The lawsuit alleges he was waiting for the "Restored Content DLC" before starting the game on Switch. Oops.
KotOR 2 came to the Nintendo handheld hybrid on June 8, 2022, and the studio promised to eventually add the "Restored Content" as DLC for the game down the road. Originally brought to the PC version via mods, the "Restored Content" pack is essentially a fan-made "director's cut" of the beloved but much beleaguered 2004 Star Wars RPG. "It'll drop in Q3 2022," the studio tweeted on several occasions. It did not.
Instead, the studio announced back in June of this year that it was no longer moving forward with the DLC pack promised at launch. Aspyr offered players free codes for the other remastered Star Wars games on Switch as an apology. The news came after the reports the studio was struggling with its planned, ground-up remake of the first Star Wars: Knights of the Old Republic for PlayStation 5. A year later, the Texas-based studio is probably in an even worse place as parent company Embracer begins to implode, laying off developers across its bloated portfolio of studios.
"[Malachi Mickelonis] felt completely duped and was upset because he had relied on Defendants' representations that the Restored Content DLC would be released for KotOR," the new lawsuit reads. "In fact, Plaintiff did not even play KotOR after purchasing it, instead choosing to wait until the Restored Content DLC was released. But Defendants never did. Plaintiff would potentially be interested in purchasing other games with Restored Content DLC from Defendants' in the future if they have the advertised content, are not deceptively advertised, and accordingly priced at fair market value without being artificially inflated due to the deceptive advertising."
The class action lawsuit means anyone else who bought the game can join it, though it's not clear who else has or will. KotOR 2 was $20 when it first came out on Switch. It's currently on sale for $7.50.