A Consultative Approach To Adding Immersive Experiences To Your Learning Portfolio
We've been talking a lot about what you can create with WebXR. Now, let's talk about how we show up to create with you.
We're Learning Partners First
We love to build—but there's more to us than bells and whistles.
We start with curiosity about your business and learning needs and explore those with you to help find the right solution for your learners. The best fit may be an exciting WebXR experience…or it might be something else entirely.
If, for example, a video or an eLearning course would work better, we'll say so! Some of our best friends (and colleagues) are custom learning creators—and we'd love to introduce you.
Our team has a wide and wonderful range of capabilities, and we're united by our passion for creating engaging, effective ways to help learners meet the rapidly unfolding future (and present!) of work.
We'd love to join you for this important work—and we promise you'll be in good hands. Check out our industry awards and reviews from client-partners.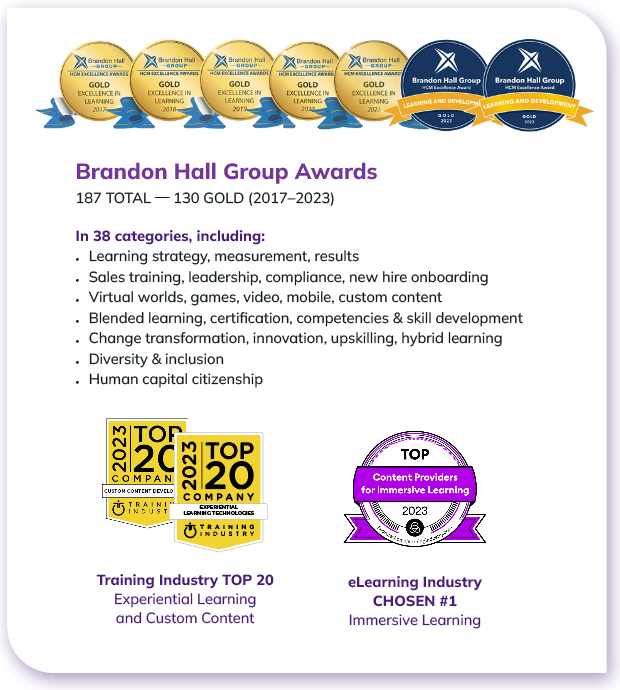 eBook Release
No Headset? No Problem! Launch Your Immersive Learning Strategy With WebXR
Learning innovator, meet WebXR. Discover how this powerful technology helps you bring immersive experiences to every learner, with or without a VR headset.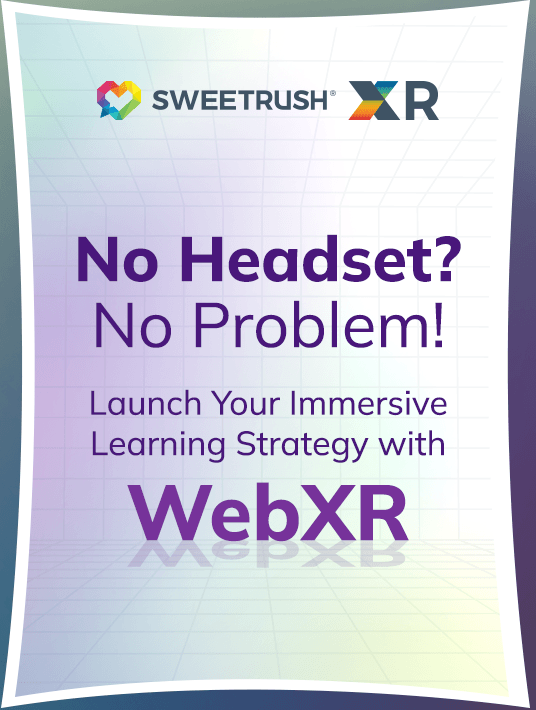 We Can Consult With You On L&D And Broader Business Strategy
We've said it before: We do a lot of listening.
We want to understand your use cases, learners, and work environments so that we can recommend the optimal immersive learning experience for your needs.
We also want to help you maximize the value of your immersive content. Together, we'll explore ways for different teams and functions across your organization to share and leverage these 3D assets. (See below for an example featuring a digital twin of a hotel.)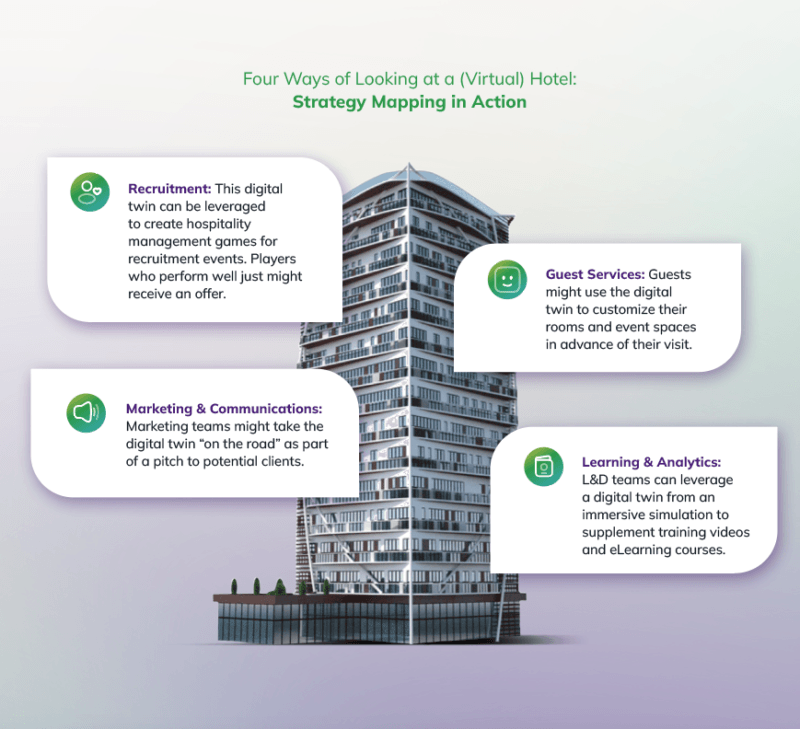 We call this beginning-to-end consulting process strategy mapping, and it's just one of the ways we help you boost the ROI of your immersive learning experiences. Some others include needs analysis, design thinking, empathy interviewing, learner testing, and frequent iterations: the tried-and-true practices we use for any effective learning program.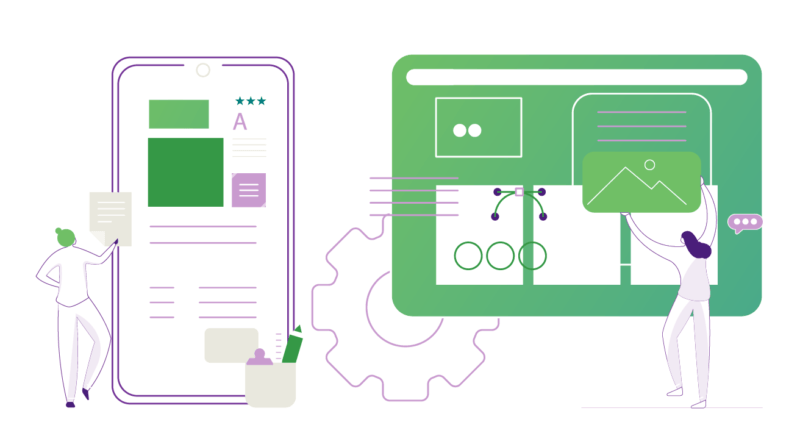 We're Technology-Agnostic
Because we're not bound to any specific tool or technology, we're able to recommend effective solutions using the software, game engines, hardware, and platforms that best meet your needs. We often develop from the ground up, but we also take requests!
If, like many client-partners, you've got technology constraints, we'll build with the authoring tools and systems you already have. We're known, in the words of one client-partner, for making learning experiences work "with, through, over, around, and under" idiosyncratic intranets, content libraries, and infrastructures.
If you've got a labyrinthine LMS or a fractious firewall, we're all ears!
We Bring Agency-Level Visual And Creative Design To The Table
When it comes to learner engagement and immersion, appearance matters. SweetRush is known for our team of designers, developers, and 3D technical artists who will work with you to design a richly immersive environment with all the relevant details your learners need (and none of the noise).
We'd love to hear your vision—or help you create one. (Curious about the possibilities? Flip through our lookbook.)
We're Focused On Research And Development
You're future-focused—and so are we.
Because we're a learning partner first and foremost, we're curious about results. And because immersive experiences yield such robust learner data, research and development play a significant role in our vision. If you're looking to conduct systematic, controlled tests of your immersive learning solutions, we're all in!
We'll Evolve Together
Evolution is a constant process…and we love the way our client-partners inspire us to advance.
76% of executives and learning leaders report that immersive learning implementation and scaling are "faster and easier" when they partner with experts.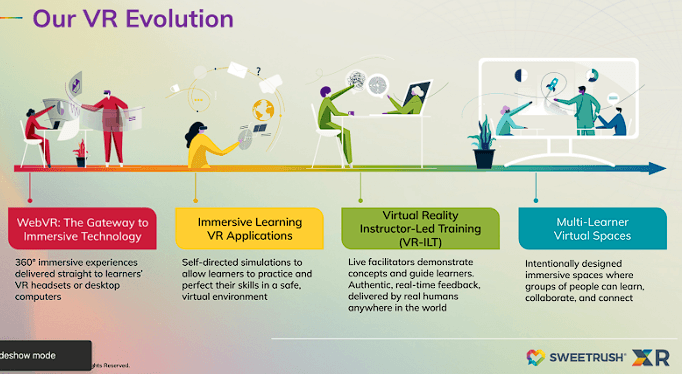 Our team started with custom native VR applications, then rose to the challenge of building VR instructor-led training (VR-ILT) and multi-learner collaboration spaces. (Watch Solution Architect Dani Silver share our origin story in this video.)
Most recently, as we worked to solve our client-partners' adoption and scaling challenges, we discovered the missing link and the gateway to immersive learning: WebXR experiences.
Ready for your next learning leap forward? We can help you clear the hurdles.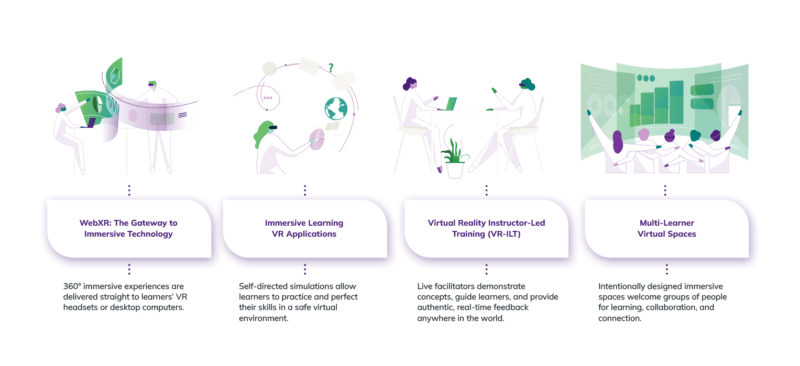 Joining Forces to Meet the Future of Work
As learning leaders, we're increasingly called upon to do more, faster, with fewer resources. (No wonder we're feeling the need for adaptability and agility.)
Our learners are looking to us for help in meeting the pace of change. They understand the need to upskill and reskill. They just need time…and bandwidth.
Immersive learning helps them conserve these valuable resources while removing the pressure and fear of fumbling. Thanks to its authenticity and reduced time to competence, it's also a great confidence booster.
We've known about these benefits for a while. What's transformative about the present moment is the opportunity it presents to bring high-quality, effective, and engaging immersive experiences to our entire learner audience.
WebXR empowers us to democratize access to leading-edge knowledge and skills—and bring about more positive change than ever before.
We're so excited about this new L&D superpower…and we can't wait to join forces.
Want to learn more about how to create engaging, effective WebXR experiences that live and thrive in your existing learning ecosystem? Download No Headset? No Problem! Launch Your Immersive Learning Strategy With WebXR today to get better acquainted with all this innovative technology has to offer.